Dorner solves industrial, packaging, and sanitary conveyor automation needs. Founded in 1966 in Hartland, Wisconsin, Dorner is a privately held World Leader in the design, applications, manufacturing, and integration of conveyor systems. Companies from over 1,200 different industries worldwide turn to Dorner to achieve improved efficiency, productivity, and a positive ROI.
Welcome to Dorner
The Dorner Advantage is….
our commitment to our employees creates a team that is passionately dedicated to our customers.
having an application and support team that has decades of experience in creating smart application solutions.
the broadest range of unit handling conveyors in the world, moving everything from machined parts to raw food products.
a lean manufacturing process that builds every conveyor to order and still delivers faster than anyone in the industry.
experienced service technicians that assist with customer installations and the optimization of their conveying investments.
a drive for quality throughout our process backed by an industry leading 10 year warranty.
Our employees, our products and our commitment to customers contribute to Dorner being a World Leader in industrial conveyor systems.
---
Global Company
With locations worldwide, we are a global company with localized support.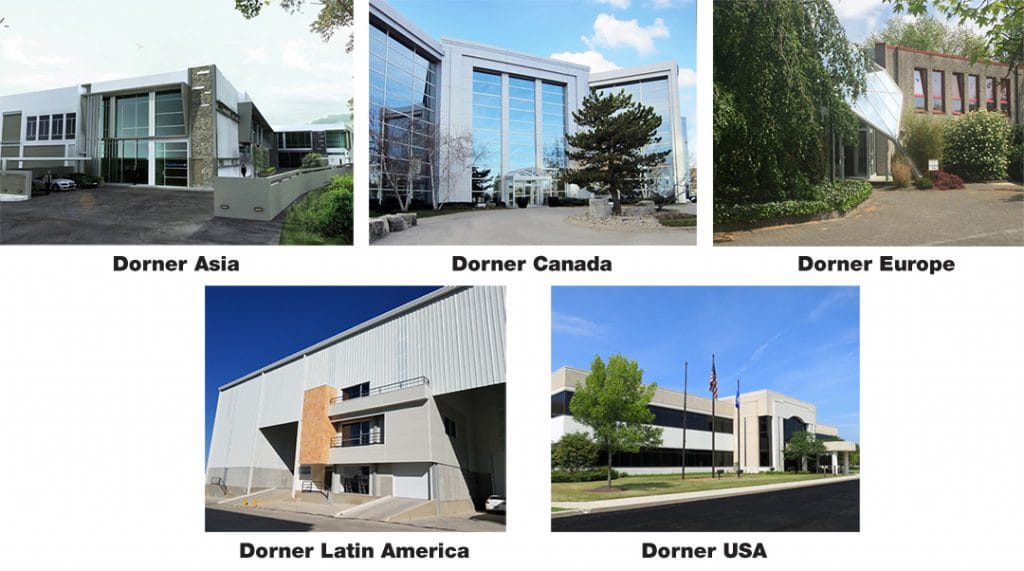 ---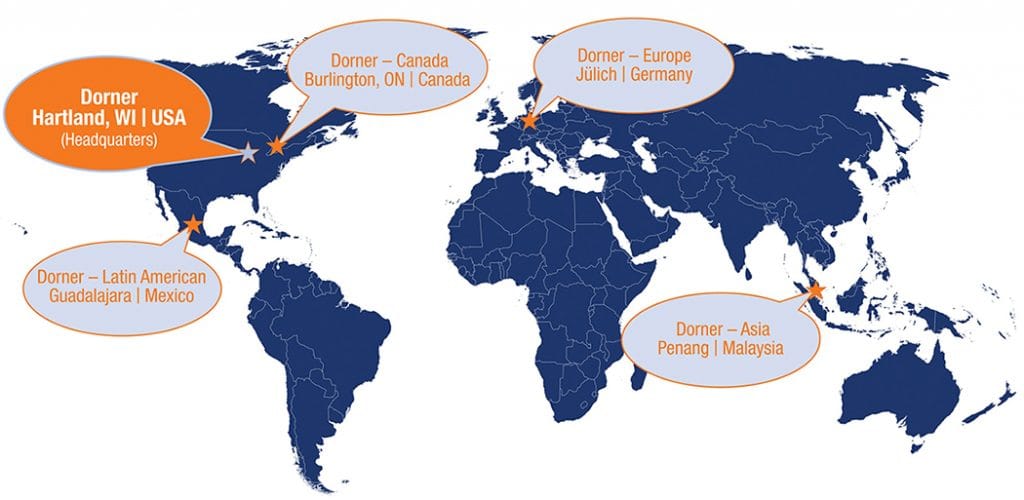 ---
Core Values
Innovation
Continuously improve our practices and processes by looking beyond traditional norms and methods. We encourage problem solving and decision making that challenges traditional thinking. We seek to provide winning solutions to our customers' requirements and challenges.
Integrity
We meet the highest standards of ethical behavior. We are honest in our dealings with customers, our community and ourselves. We realize we are stewards of our business and the environment in which we operate. We judge ourselves not just by the letter of the law, but also by being proud of our actions.
Speed
Providing solutions to increase efficiency for the customer. From customer support, to online tools, product delivery and after-sale support we deliver quality products and services fast, efficiently, consistently, and professionally around the world.
---